ERM
Streamlined • Simple • Strategic
Our Enterprise Risk Management solutions build on more than two decades' experience delivering analysis, consultation and process management tools to Community Banks.
We offer two Enterprise Risk Management solutions:
ERMA as a Service is a consulting-based solution where we assess and score a standardized banking risk inventory through the use of advanced analytics, extensive document review, and, only after those activities are complete, targeted interviews with key management.
ERMA as a Product is a way for banks to use our streamlined and proven process to perform executive-oriented Community Bank enterprise risk management themselves. Community Banks benefit from our risk and document inventory, scoring process, automated data feeds, and web-based dashboards.
Both of our ERMA solutions render results in an interactive, web-based dashboard that automatically updates with Community Bank risk inputs including Macroeconomic Trends, Call Report bank vs. peer results, and various credit risk inputs (loan reviews, loss forecasts, stress tests, etc.).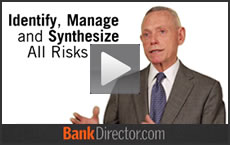 BankDirector.Com Video: Ways to Win at Enterprise Risk Management
Watch a 4-minute video where David Ruffin, explains how community banks can control their own destiny through an effective ERM strategy.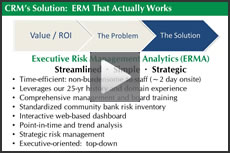 Webinar Video: ERM that Actually Works
Watch a 30-minute video where CRMa explains and demonstrates its ERMA methodology.
.
Additional ERM resources
Want Specifics? Check out our ERM Solutions...
ERMA as a Service
ERMA as a Product
---