Loan Review (Smart Sampling)
Loan review should be more than an audit exercise to recommend risk grade changes, it should add value. Our proprietary model enables us to assess your data to identify key risk pockets and pinpoint optimal loan samples with laser-like precision. We do this more efficiently and accurately than any of our competitors, or clients.
For decades, lenders relied on their knowledge of borrowers to assess and predict loan performance. But as expectations have evolved, so have adaptive innovations. The most forward thinking banks and credit unions are now taking an ROI approach to loan and risk management. That means investing in independent assessments, strengthening internal review capabilities, and in many cases doing both. These organizations recognize that top-rate, credit-risk expertise is critical to not only compliance, but to generating positive net returns.  
CRMa, LLC delivers a rigorous and objective assessment of your loan portfolio. Alternatively, we complement your internal review practice with best-in-market sampling expertise.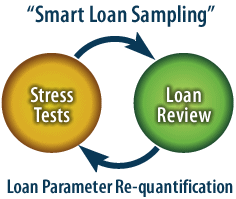 Our loan reviews are more than a regulatory check-the-box exercise. We create value through deeper insight into potential risks.
The result:
Outcome-focused management
Enhanced risk mitigation
Smarter capital planning
With Each Loan Review, We…
Evaluate overall portfolio quality
Test compliance with internal policies
Analyze financial statements
Establish a loan grading system
Evaluate documentation standards
Verify security interest perfection
Review regulatory and legal compliance
Review loan administration
Evaluate lending personnel
Train internal loan personnel and lenders
Smart Sampling Methodology
The volumes of at-risk assets remain uncomfortably high, and difficult to quantify accurately. Too much to sift?
Our Sampling Methodology Spans:
Impactful credits — large relationships & loans
Watch credit
Risk-based sampling focused on:

Delinquency
Renewals and Extensions
Purchased Participations
Lack of Principal Curtailment
Quantitative sampling informed by:

Top-down stress testing
Concentration analysis & portfolio composition by: FFIEC codes, loan type, purpose, collateral, industry, vintage, etc.
Historical problem areas
Bank and peer trends
Bottom-up stress testing (CRMA)
Data Collection & Analysis
Our Loan Review Manager (LRM®) database enables:
Collection and reporting of detailed, product-specific underwriting and servicing data
Transparent calculation of recommended impairments
More highly granular analysis of results
Detailed documentation-exceptions reporting: recommended best practice, critical lien perfection issues, capacity-to-borrow issues
Data-driven analysis of portfolio risk
Collaboration & Consultation
Our File Review Provides:
A write-up of all reviewed credits
Documentation review for large and stressed credits
Detailed servicing recommendations
Corroboration of risk grades, impairment calculations, troubled debt restructure tracking, and accrual status
Ongoing and open communication with review team – your staff can share information and discuss recommendations
Suggested best-practice updates to lending policy
Ongoing availability to discuss underwriting strategies, workout strategies, regulatory and accounting changes, industry trends and emerging issues
Our relationship with CRMa has enabled us to more effectively manage credit quality and risk to increase the integrity of our portfolio.
Jenny Ridgeway
Senior Vice President