Loan Review (Smart Sampling)
Loan review should be more than an audit exercise to recommend risk grade changes, it should add value. Our proprietary model enables us to assess your data to identify key risk pockets and pinpoint optimal loan samples with laser-like precision. We do this more efficiently and accurately than any of our competitors, or clients.
For decades, lenders relied on their knowledge of borrowers to assess and predict loan performance. But as expectations have evolved, so have adaptive innovations. The most forward thinking banks and credit unions are now taking an ROI approach to loan and risk management. That means investing in independent assessments, strengthening internal review capabilities, and in many cases doing both. These organizations recognize that top-rate, credit-risk expertise is critical to not only compliance, but to generating positive net returns.
CRM_A delivers a rigorous and objective assessment of your loan portfolio. Alternatively, we complement your internal review practice with best-in-market sampling expertise.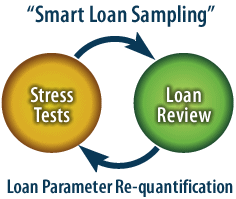 Our loan reviews are more than a regulatory check-the-box exercise. We create value through deeper insight into potential risks.
The result:
Outcome-focused management
Enhanced risk mitigation
Smarter capital planning
With Each Loan Review, We…
Evaluate overall portfolio quality
Test compliance with internal policies
Analyze financial statements
Establish a loan grading system
Evaluate documentation standards
Verify security interest perfection
Review regulatory and legal compliance
Review loan administration
Evaluate lending personnel
Train internal loan personnel and lenders