Online Credit Manual
Our Online Credit Manual is a customizable information tool that houses your institution's policies, procedures, underwriting guidelines and a wealth of reference material.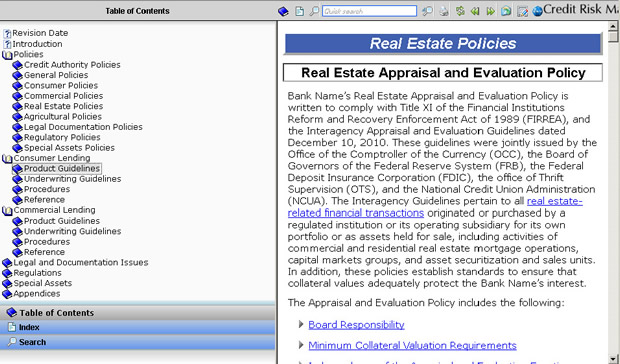 Our Online Credit Manual evolves with the growth and evolution of your bank or credit union. In fact, CRMa helps manage this process step by step. We continually update your institution-specific information, as well as your library of external data that Online Policy Manual references:

state-specific statues and rules for lending and securing collateral,
and detailed content on all major lending compliance regulations.
CRMa also …
collaborates on the development and refinement of your Online Policy Manual – A CRMa professional works on premise with your credit and compliance staff to make sure you get exactly what you want.
documents all change requests for approval by your designated staff.
maintains a detailed audit trail that tracks all changes by time and by approving officer.
monitors and updates 100 percent of all reference material for continual accuracy.