CRM_A Toolbar®
Used by banks and credit unions across the country, the CRM_A Toolbar® provides a wealth of highly standardized cash flow and project analysis tools designed to establish consistency and streamline the underwriting process.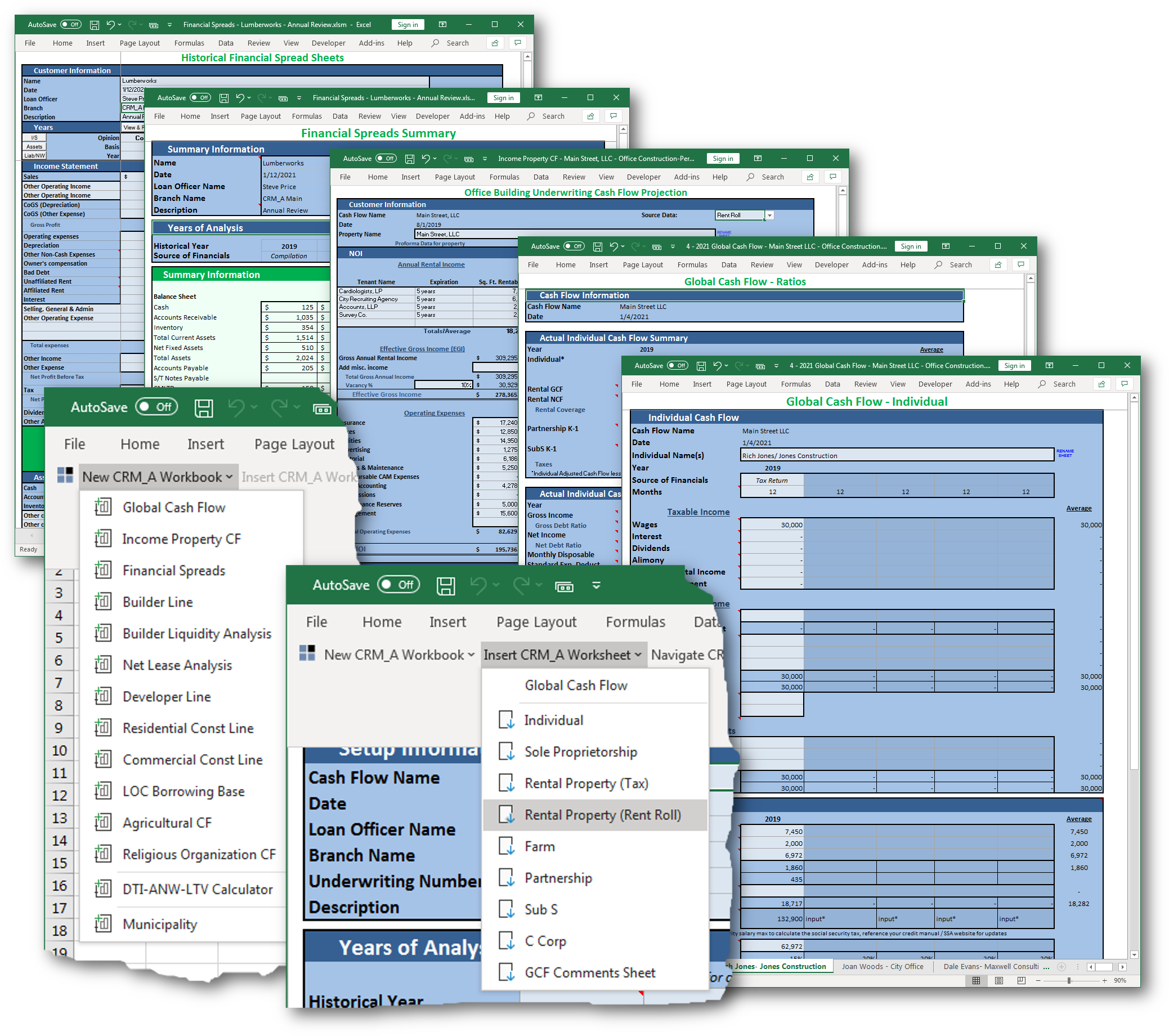 Global Cash Flow: Analyze cash flows and determine the repayment capacity of borrowers, guarantors and/or interrelated third parties.
Income Property Cash Flow: Analyze cash flow probabilities, supportable loan amount scenarios and complete sensitivity analyses for income-producing properties.
Financial Spreads and Projections: Perform detailed analysis of business financials including multi-year historical, interim and projected ratio analysis, transactional stress testing and breakeven analysis.
Borrowing Base Line of Credit: Manage borrowing base lines of credit based upon eligible collateral and approved advance rates.
Builder Line of Credit: Manage residential construction projects including established line limits and utilization, sales and lot release data and average inventory days.
Builder Liquidity Analysis: Determine the appropriate volume of speculative homes that a builder should be permitted to build based upon cash on hand, average sales price, gross profit margin and various financial statement metrics.
Developer Line of Credit: Manage commercial and residential development projects including project economics, sellout projections, draws, releases and sales tracking.
Commercial Construction Line: Manage commercial construction projects including project budget, equity requirements, build-out and draws.
Residential Line of Credit: Manage residential construction projects including inspections, disbursements, percentage of completion and differences in expected and actual advances.
Net Lease Analysis: Detailed analysis tool for complex retail and office properties including forward projections and stress scenarios.
Religious Organization Cash Flow: Complete project analysis based upon capital campaigns, balance sheet characteristics and historical, proposed and projected year-over-year debt service analysis.
Municipality / Non-Profit: Complete borrower analysis based upon various established revenue streams and expenditures, balance sheet recap and year-over-year ratio and benchmark analysis.
Agriculture Cash Flow: Borrower and operational analysis for beef, crop, dairy, poultry and swine operations.
Debt-to-Income, Adjusted Net Worth and Loan-to-Value: Detailed calculations to determine Debt-to-Income, Adjusted Net Worth and Loan-to-Value for individuals.