ALLL Estimates
Unleash the Power of your Loan Data to Optimize Loss Provisioning.
Key capabilities:
Leverage data from existing internal risk rating systems to inform institution-specific estimates of credit loss.
Provide forward-looking credit loss estimates on a loan-by-loan basis.
Estimate loan default probabilities using an Internal Ratings Based approach.

ALLL — Powered by CRMA®
Our risk-migration based approach leverages your internal risk rating system to develop reliable, repeatable and institution-specific credit loss estimates. Coupled with impairment-specific reserves, our CRMA model can also apply qualitative and environmental factors to round out the reserve estimate.
How?
Our patented Credit Risk Migration Analysis estimates formula-based (non-impaired) reserves using Probability of Default ("PD") and Loss Given Default ("LGD") parameters. These are informed by historical risk-grade migration and net-charge-off data.
NOTE: All analyses are based on your existing risk grading system, past due data, and net charge-off data.
Qualitative & Environmental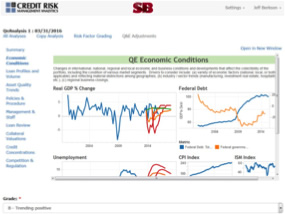 Our ALLL model includes a Qualitative & Environmental (Q&E) module that offers a consistent and efficient process for documenting management judgment around reserves. We provide automated visual context culled from public and proprietary systems in order to simplify and standardize the Q&E process for management.
Q&E is intended to help proactively identify reasons the future may differ from the past and ensure such risk is reserved for and monitored. As such, Q&E is part-and-parcel of your bank's enterprise risk management.
Call Now for a Consultation.
ALLL Estimates, powered by CRMA, are available as a product or as a service.
As a service
We run the model as a service from start to finish and produce your estimate, supporting reports and documentation. Additionally, we make sure you understand the results and can accurately defend them. Our experts are also available to discuss these results with auditors or examiners.
As a product
It's not just software. We provide the CRMA model fully loaded with your bank's historical data and other information needed to run the estimate. The only data you add quarterly –– through our automated process –– is the most recent flat (ALERT) file. And, we ensure that you understand how to run the model quarterly and can explain and defend the results to board members, auditors and regulators.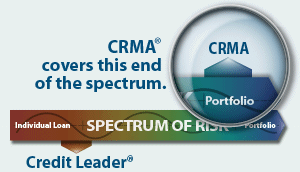 We have worked with CRMa for years in providing us with stress testing of our loan portfolio, as well as assistance with our allowance for loan and lease losses model. They have proven to be a great partner for our bank and their products and services have been a great asset to all levels of our organization.
Chris Colenzo
Director of SEC Reporting and Accounting Policy
Bank of North Carolina