CRM_A's CECL Allowance Leader
Key Features:
Easy-to-use, Efficient, and Understandable
Fully auditable and Transparent
More than just a calculator
Integrated with all CRM_A analytics products
Regulatory and Accounting disclosures included

Powerful migration based analytics
CRM_A's powerful migration based approach allow the Bank to calculate PDs and LGDs even when losses are minimal. Purchase of the CECL software also allows the client to access the CRM_A PD/LGD indices to further supplement the Bank's data.
Formula losses, Impairments, and Qualitative & Environmental
Allowance Leader provides simple solutions for all of these concerns. The system is self-documenting and flexible, allowing the Bank to perform what-if scenarios and even basic stress testing analysis within a consistent, manageable framework.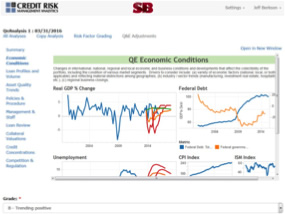 More than just software
CRM_A believes that our success only happens when you succeed. We want to be more than just a vendor that sells you a calculator. We provide unparalleled customer support that includes substantial area knowledge that's made available to our clients at all times. We want to be the first and last name you think of when you have a question about your loan portfolio. With CRM_A as a partner, you'll never feel alone as we believe our success will only happen alongside your own. We'll be with you every step of the way.
Coming Soon
In Q2 2020, CRM_A plans on releasing a powerful new tool for clients looking to incorporate advanced econometrics into their loss modeling approach. CRM_A's enhanced AI allows for the development of a robust economic model that utilizes the vast Bank and Economic data at your fingertips. Unlike other machine learning Ais on the market today, our approach is both reproducible and avoids the common danger of producing overfitted results. Contact us today if you'd like to be one of our Beta banks for this exciting new product!
CRM_A has provided our management team with loan and allowance tools for nearly a decade. Their expertise though periods of rapid growth have helped protect the Bank's asset quality, as well as given added confidence with regulators and investors. Their staff is always available to answer questions, no matter how technical or challenging. CRM_A's ALLL Leader online portal is comprehensive and easy to navigate. Having the Credit Risk Migration Analysis solution has allowed for an easier transition to the CECL standard. We are appreciative of our partnership over the years and would highly recommend their services.
Corporate Treasurer,
$1B Commercial Bank
Call Now for a Consultation.
ALLL Estimates, powered by CRMA, are available as a product or as a service.
As a service
We run the model as a service from start to finish and produce your estimate, supporting reports and documentation. Additionally, we make sure you understand the results and can accurately defend them. Our experts are also available to discuss these results with auditors or examiners.
As a product
It's not just software. We provide the CRMA model fully loaded with your bank's historical data and other information needed to run the estimate. The only data you add quarterly –– through our automated process –– is the most recent flat (ALERT) file. And, we ensure that you understand how to run the model quarterly and can explain and defend the results to board members, auditors and regulators.